NONILLION: Brice Bischoff, Joe Brittain and Katy Fischer
1/14/2012- 2/26/2012

Navigating the vastness of space—both inward and outward—artists Brice Bischoff, Joe Brittain, and Katy Fischer each generate boundless forms that provide definition within a continually expanding and contracting void. Through their approaches to photography, sculpture and painting, the artists featured in NONILLION engage the energetic potential of light, material, and line. Brice Bischoff's photographs give presence to unseen and intangible events through performance and process. By harnessing the interaction of materials with light, Bischoff stages photographic situations that oscillate and ooze beyond the edges of the image. Joe Brittain's new sculptures contain forces, undetectable to the eye, that change the physical makeup and arrangement of the materials. Preferring metonymy over metaphor, the resulting works present themselves as uncanny forms that double as functional diagrams or maps made to orient one's place in the world. Katy Fischer's recent works on paper evoke the spaciousness and dynamism of wide-open landscapes and moments of meditative clarity. Referencing classical Indian painting, American folk art, and ancient Middle Eastern artifacts, Fischer's paintings and drawings generate a palpable energy—a charge between object and line that reverberates from their intricate detail.

Press:

NONILLION
Art Papers: Alex Jovanovich

N O N I L L I O N @ REGINA REX
Eyes Towards The Dove: Katy Diamond Hamer

Nonillion: Brice Bischoff, Joe Brittain and Katy Fischer @ Regina Rex
Searching for the Light: Carl Gunhouse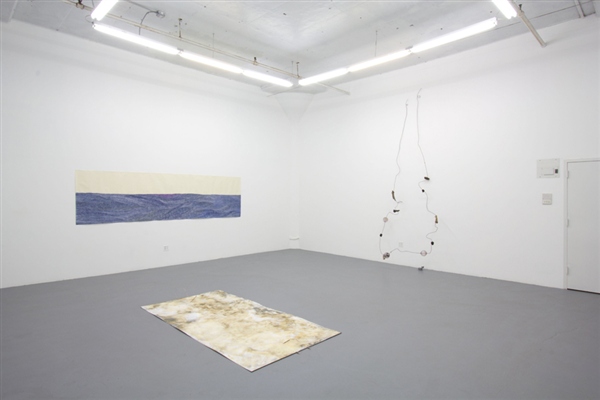 Installation view of NONILLION: Brice Bischoff, Joe Brittain and Katy Fischer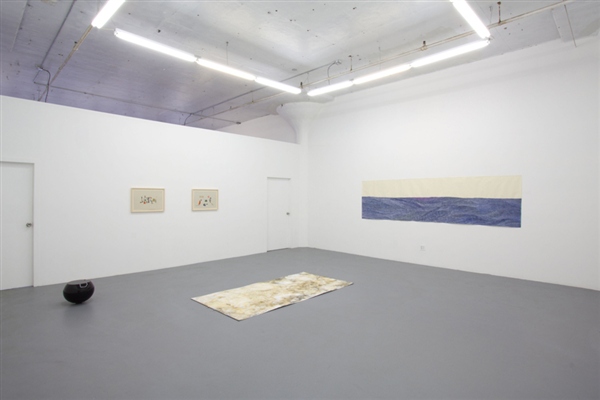 Installation view of NONILLION: Brice Bischoff, Joe Brittain and Katy Fischer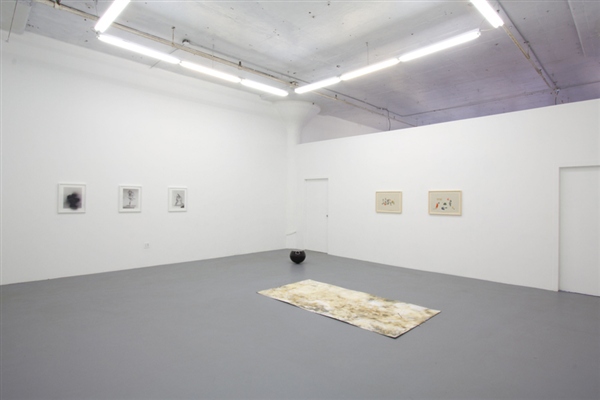 Installation view of NONILLION: Brice Bischoff, Joe Brittain and Katy Fischer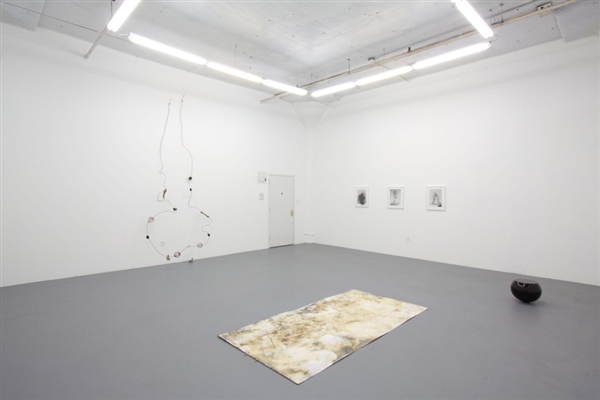 Installation view of NONILLION: Brice Bischoff, Joe Brittain and Katy Fischer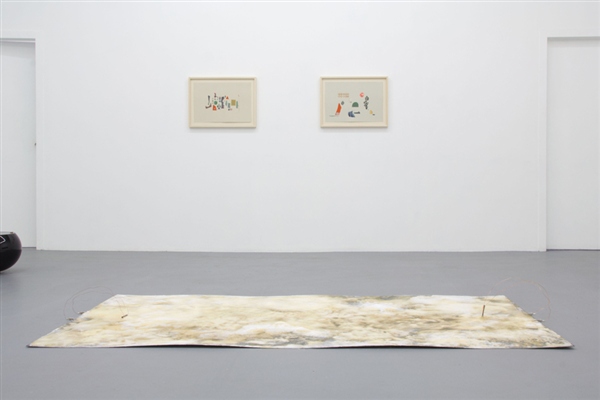 Installation view of NONILLION: Brice Bischoff, Joe Brittain and Katy Fischer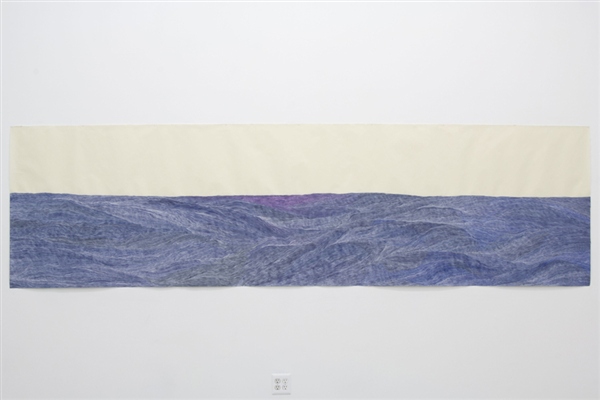 Katy Fischer, Ocean, 2009, gouache on paper, 36 x 140 inches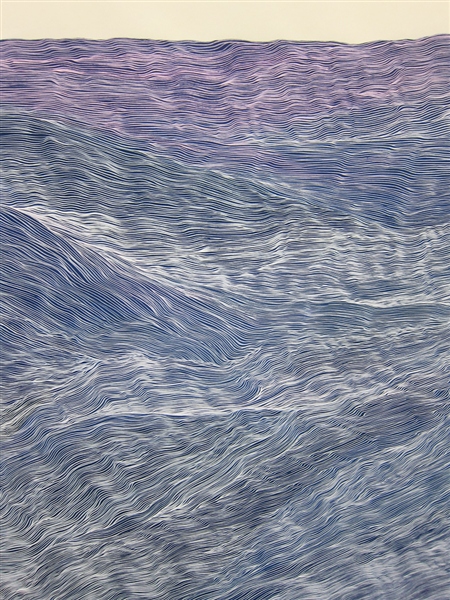 Katy Fischer, Ocean (detail), 2009, gouache on paper, 36 x 140 inches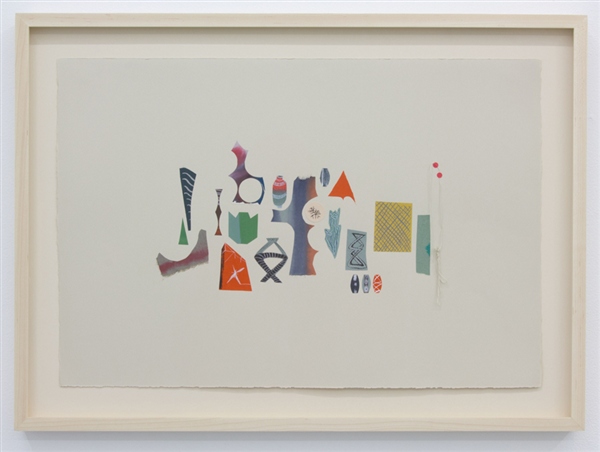 Katy Fischer, Collection 1, 2011, gouache, paper and string on paper, 15 x 22 inches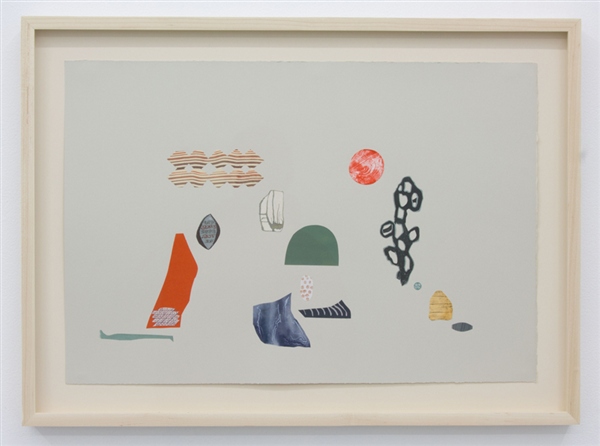 Katy Fischer, Collection 2, 2011, gouache and paper on paper, 15 x 22 inches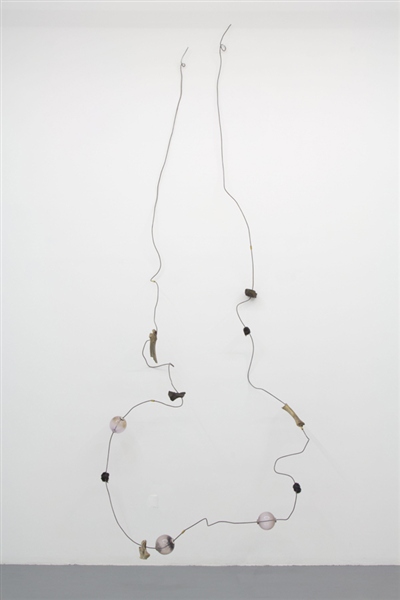 Joe Brittain, Timeline, 2011, steel, fossilized bone, coal, glass, black sand and magnets, 144 x 60 x 30 inches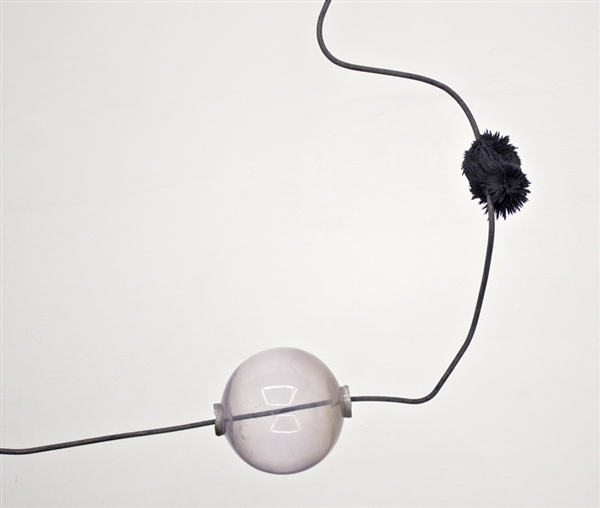 Joe Brittain, Timeline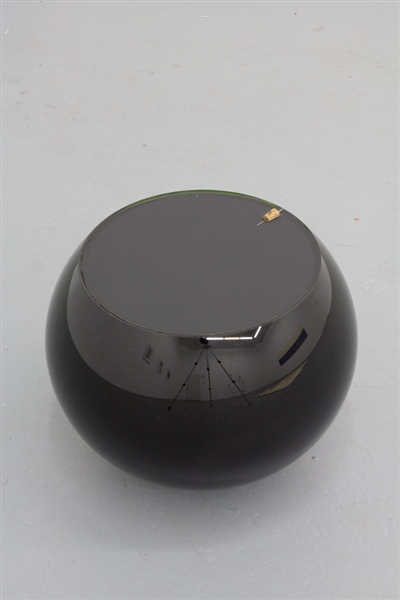 Joe Brittain, Ocean and Boat, 2011, glass, ink, cork, and magnetized needle, 13 x 15 x 15 inches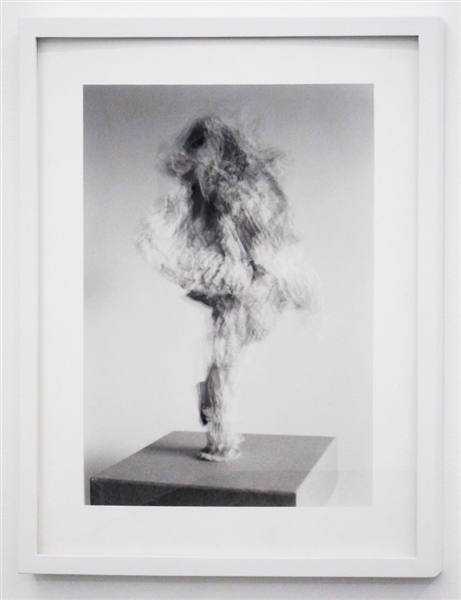 Brice Bischoff, Remainder 1
2010
Gelatin Silver Print
17 x 11 inches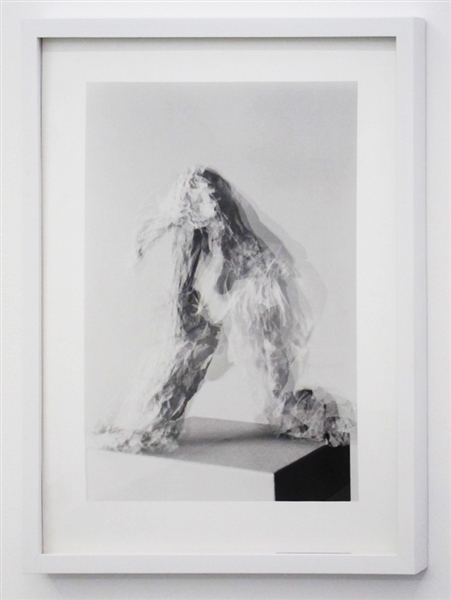 Brice Bischoff, Remainder 3
2010
Gelatin Silver Print
17 x 11 inches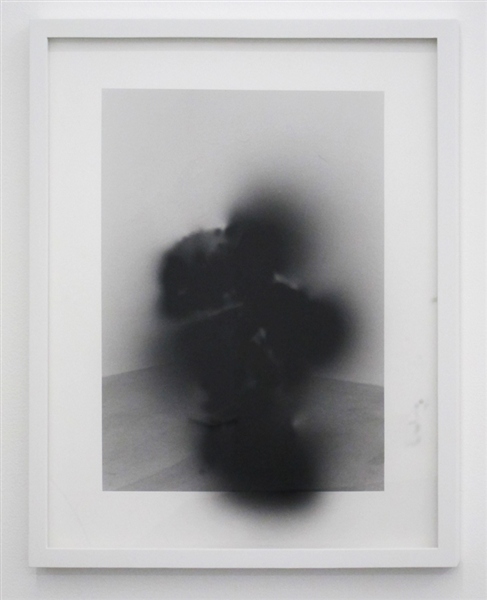 Brice Bischoff, Glow Stick Sculpture Proposal #2
2011
Gelatin Silver Print (unique)
17 x 11 inches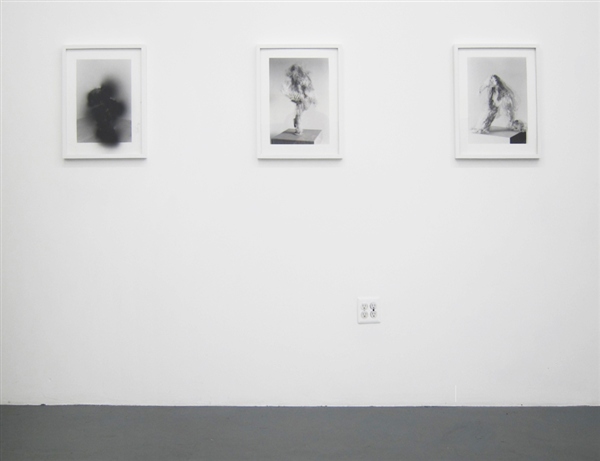 Installation view of NONILLION

(works by Brice Bischoff)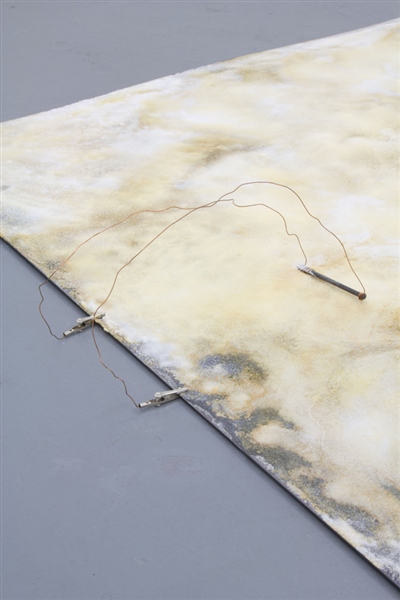 Joe Brittain, No diminution in the sum of things (detail), 2011, steel salt, coal, copper wire and graphite, 96 x 48 x 3 inches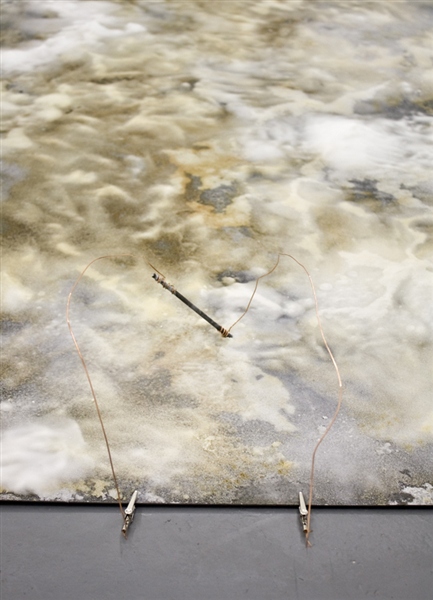 Joe Brittain, No diminution in the sum of things (detail), 2011, steel salt, coal, copper wire and graphite, 96 x 48 x 3 inches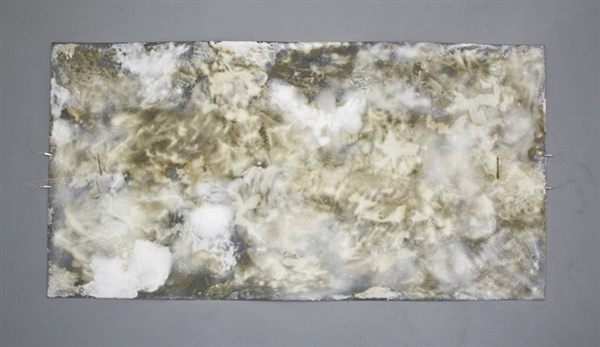 Joe Brittain, No diminution in the sum of things, 2011, steel salt, coal, copper wire and graphite, 96 x 48 x 3 inches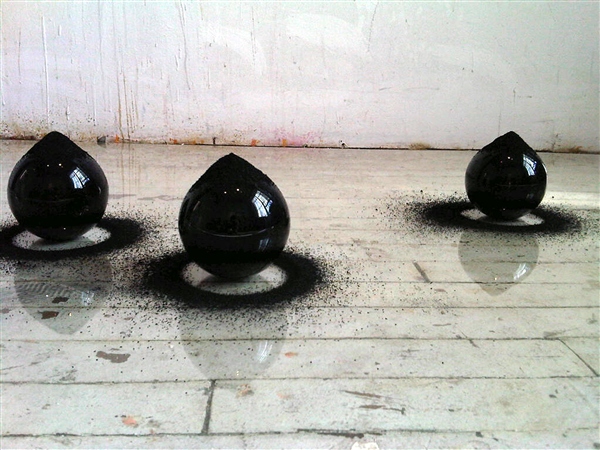 Joe Brittain, Eclipse (detail), 2011