Snail Salon
11/2/2013- 12/15/2013

curated by Adrianne Rubenstein
Opening Reception: Saturday Nov 2, 7-10pm

Heike Kati Barath
Gina Beavers
Amanda Friedman
Phillip Birch
Barb Choit
Payton Cosell Turner
Mira Dancy
Bella Foster
Al Freeman
Alicia Gibson
Tamara Gonzales
Joanne Greenbaum
Elizabeth Jaeger
Heidi Jahnke
Branden Koch
Ella Kruglyanskaya
Monique Mouton
Meghan Petras
Jennifer Rochlin
Nolan Simon
Ben Stone

Many years ago I took my paint covered hands over the hill from school and walked into a nail salon. You see I had been biting my nails during a lecture, putting them in my mouth during a scary movie, and upsetting myself by swallowing paint, disgusting others, and creating an unsightly mess while taking notes during class. I still have that oral fixation and gear it towards pens and plastic straws. At the nail salon, which was painted pale lavender, and decorated chicly, that is to say tastefully, that is to say inoffensively, that is to say, it was not decorated at all but rather hung with objects containing scentless flowers and rays of sunshine trapped beyond the prism of imagination, in a photographic unreality, in a dream, in a fairytale, in a place where vision is free of emotion. Purple lollipops, glittering car keys, and fists of money make you feel good. And that is what they make your feet look like as well.

At the nail salon I contemplated my color choice, choosing ultimately, a banana split of two tones, bottom color white and top color yellow so that it made a pastel yellow with imperfect streaks. I also contemplated my sanity. My pulse slowly fell and then quickened as the nerves in my neck reacted to the manicurist's own sensitivities, the quality of the job she was doing, the streaks, the color choice, the materials used and whether or not they would stay, the drying technique and whether or not it would smudge or scratch or remain wet forever leaving me completely unable to care for myself or complete the commonest task. As I sat there contemplating the palm fronds in the artwork, and the bottles of polish containing infinite options with titles that read like fortune cookies and palm reading and stars in the skies, I underwent a transformation. What was my hand, through the gentle handling, picking, cutting, and brushing, oiling, massaging, trimming, filing, and caring, became a much more beautiful hand. Something that nobody could find fault with. Something that was at once mine and as pretty as a picture, that was just as usable as before but nearer to the standard of perfection. Though still with some slight imperfections like bumps and crookedness, as perfect as it ever could be.

The new hand looked as if it could win a court case, wear a wedding ring, and go to a party or a baby shower. The new hand was impossible to bite or suck or destroy in any way. It was now as un-troublesome as a flower, and twice as sweet. The new hand would then walk out the door in combination with the same clothes and join the wave of others like myself who were at once cared for and also a bit weathered, whose concern about their appearance and preoccupation with the opinion of others most likely hovered around my own.

When an artist gets a manicure everything she sees becomes a part of her, the pleasure and pain, the regret and guilt, the circumstances of the other person who is doing this to you. The thoughts are with you even while you detach from reality and take a moment to relax. The intentions are good and the aesthetics are bad. And yet you walk out of there feeling improved. There on your hand is a thing to admire and be thankful for; the many choices that lay behind you, the magazines and how much to tip, are still in the air. It is however, something that fades. The polish cracks as soon as five days later and begins to crumble and the hands go back to the mouth. The process repeats itself indefinitely.

-excerpt from a text written by Adrianne Rubenstein.

Adrianne Rubenstein (B. 1983, Montreal) is a painter, curator and gallery director at James Fuentes. In January 2013 she co-curated 'Forget About the Sweetbreads' with artist Joanne Greenbaum, which was positively reviewed by The New York Times and Gallerist NY. Adrianne completed her undergraduate studies at the Nova Scotia College of Art and Design (2006), and her Master's degree in painting at the San Francisco Art Institute (2011). Her work will be featured alongside William Deloitte and Alicia Gibson in an upcoming three-person exhibition at Derek Eller.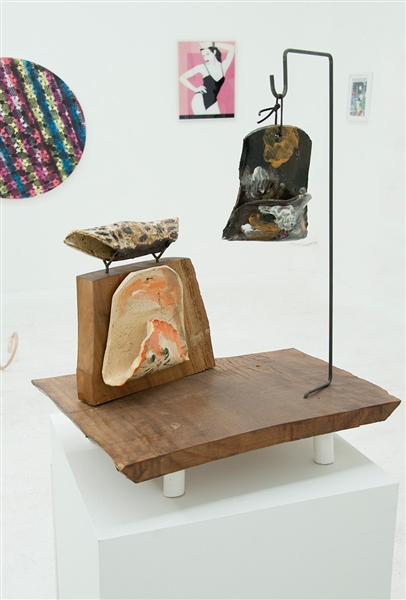 Jennifer Rochlin
Untitled (cats and bats), 2013
Ceramic, wood, metal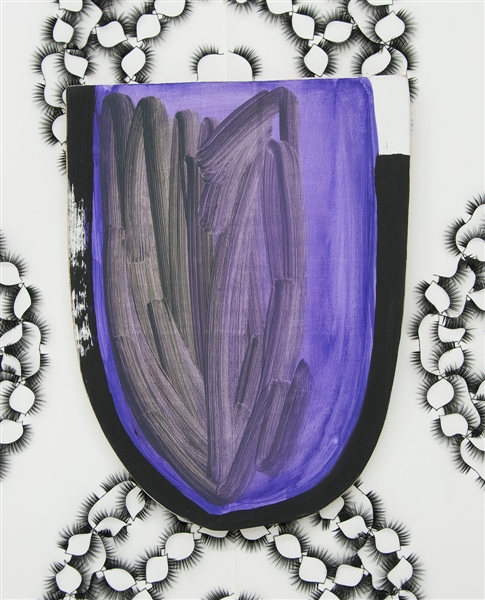 Monique Mouton
U, 2011
Oil on panel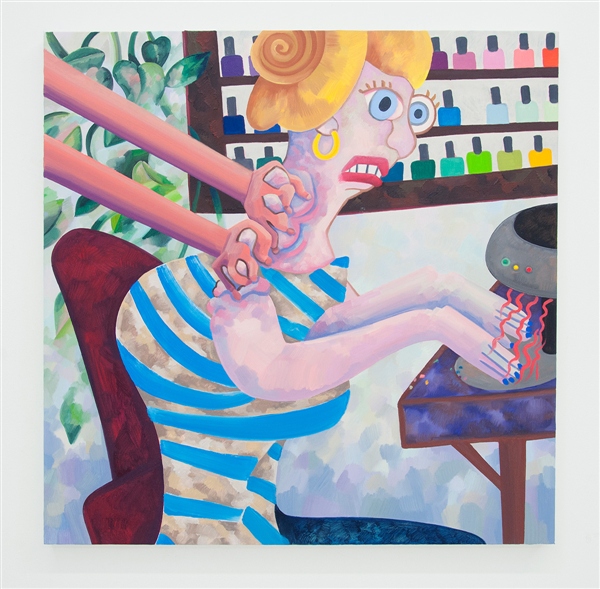 Heidi Jahnke
The Last Step, 2013 Oil on Canvas
30" x 30"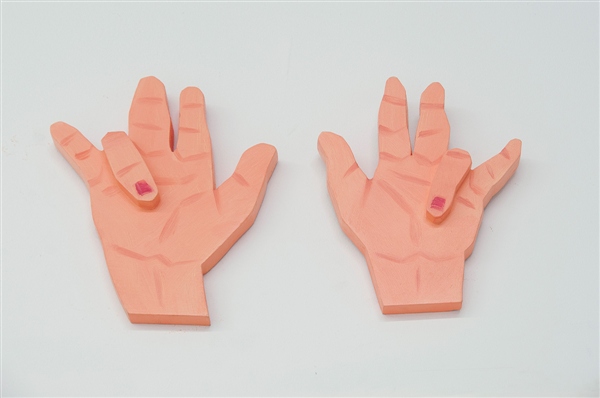 Al Freeman
Trigger Fingers, 2013 Oil on shaped plywood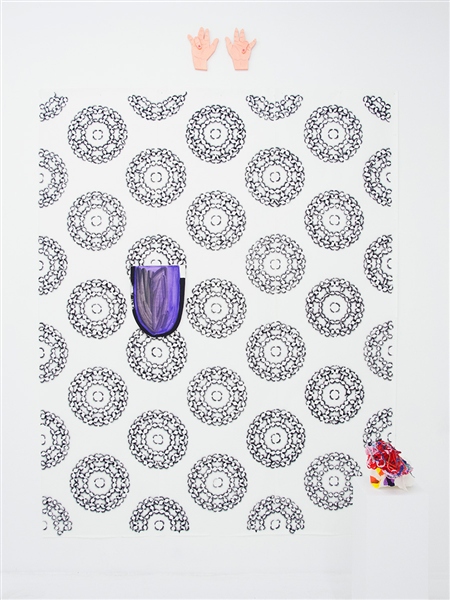 Peyton Cosell Turner
Eyelash Wallpaper, 2013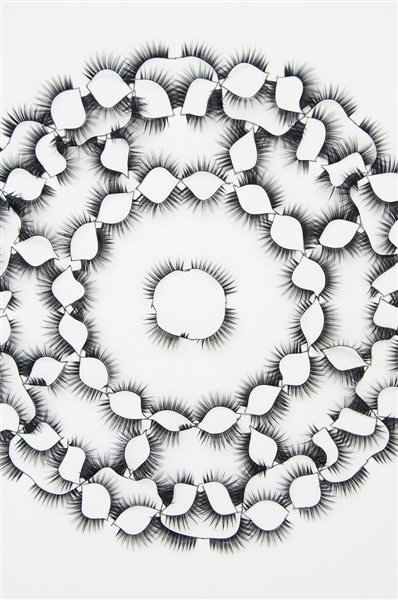 Peyton Cosell Turner
Detail of Eyelash Wallpaper, 2013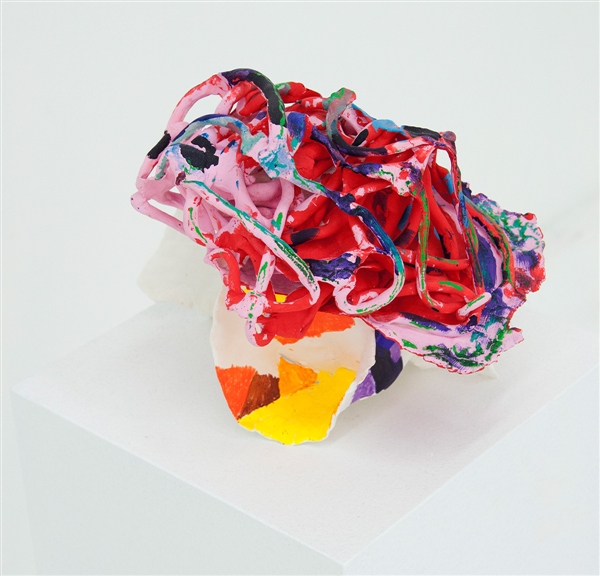 Joanne Greenbaum
Untitled, 2013 Paper clay with acrylic, oil and ink marker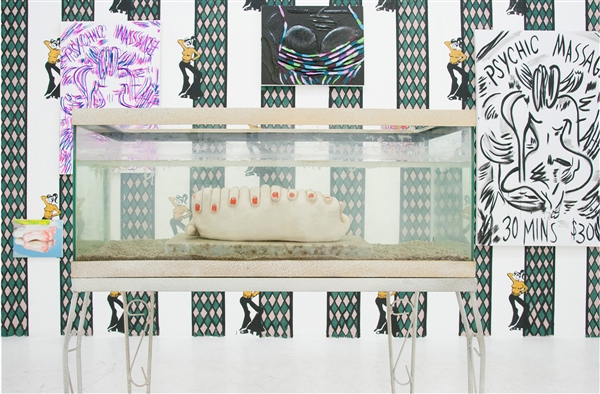 Elizabeth Jaeger
Detail of The Argument, 2013 Ceramic, granite, sand, fish, glass, steel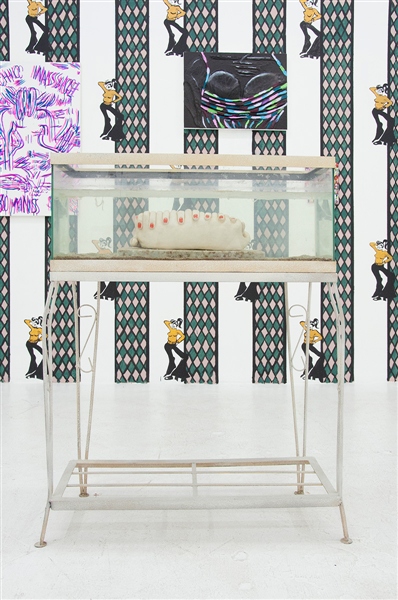 Elizabeth Jaeger
The Argument, 2013 Ceramic, granite, sand, fish, glass, steel



Mira Dancy
Psychic Massage Vibrations, 2013 Acrylic on canvas 36" x 24"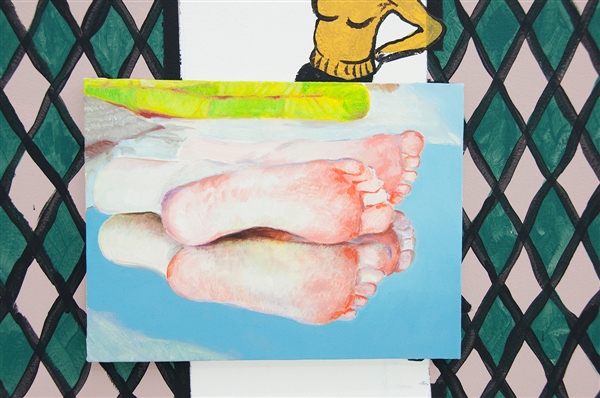 Nolan Simon
Surrogate, 2013 Oil on canvas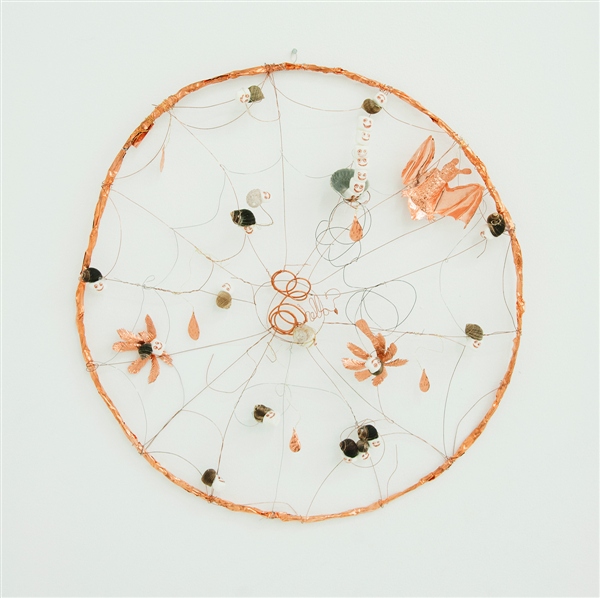 Branden Koch
Semiconductor #9, 2013
Wire, marshmellows, copper, shells
15" x 15"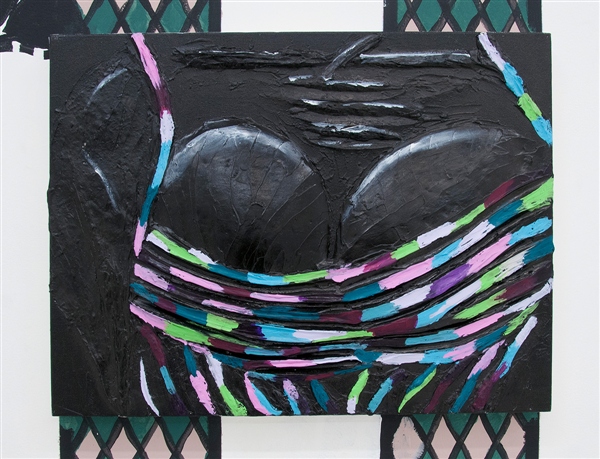 Gina Beavers
Black Vision, 2012 Acrylic on canvas 18" x 24"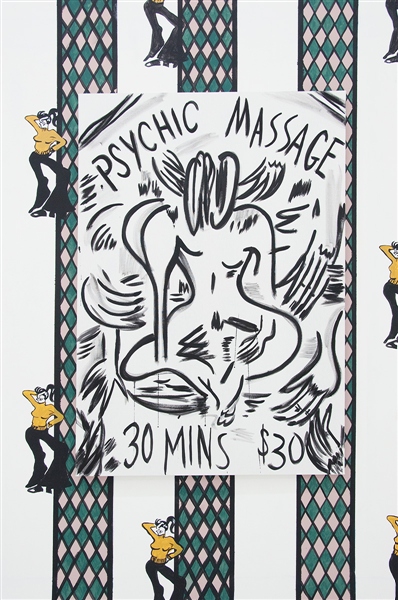 Mira Dancy
Psychic Massange Hands, 2012
Acrylic, ink, bleached cotton
51" x 35"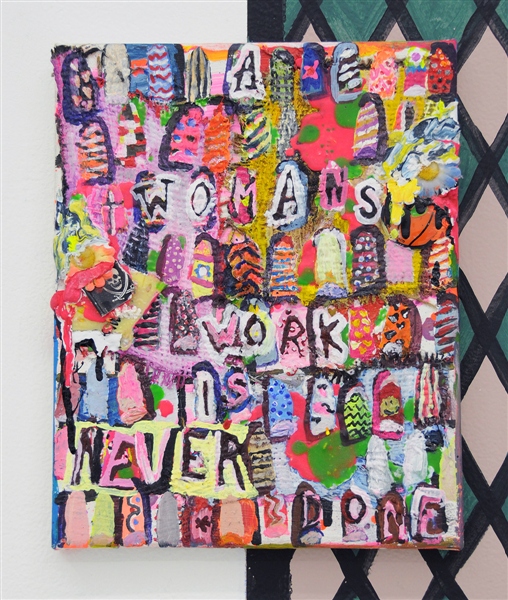 Alicia Gibson
A Woman's Work is Never Done, 2013 Oil, burlap, found objects on canvas 10" x 8"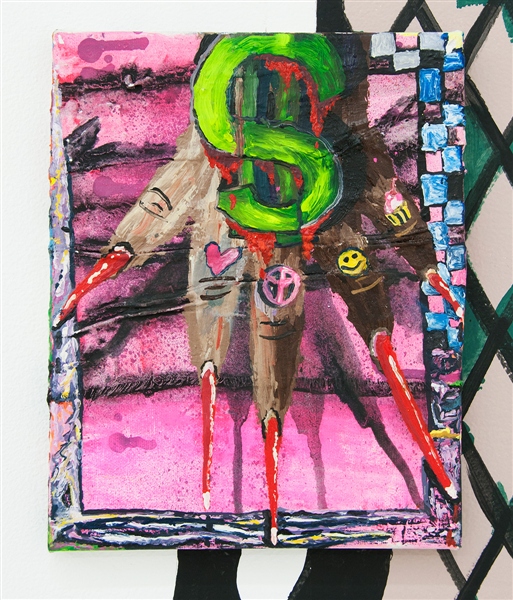 Alicia Gibson
Fur Alix, 2013
Oil and muslin on canvas
10" x 8"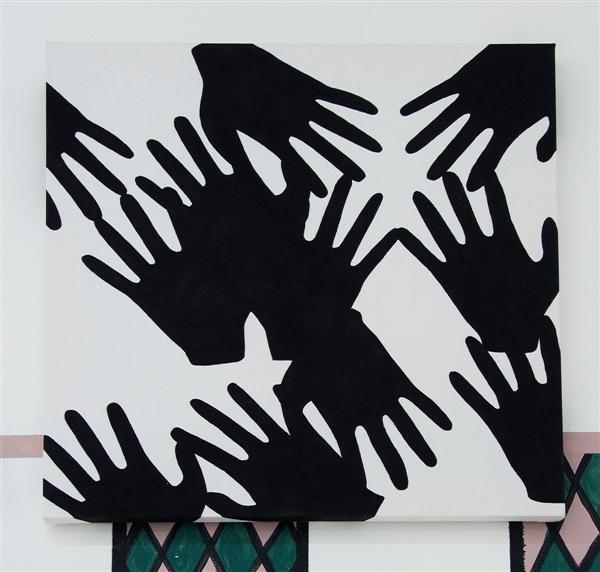 Meghan Petras
Mod Squad, 2013 Fabric paint on canvas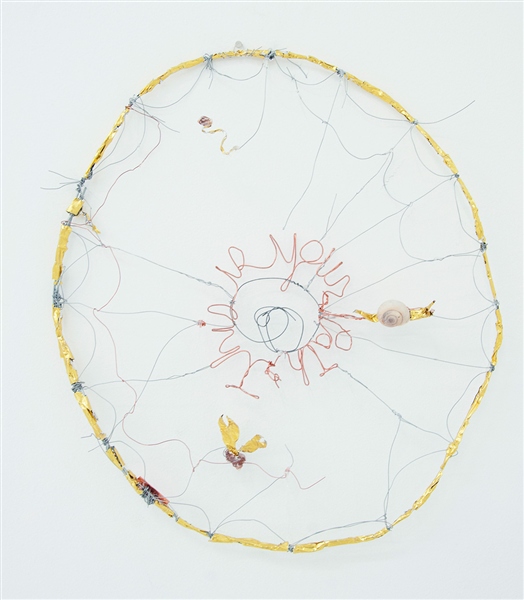 Branden Koch
Semiconductor #2, 2013
copper and steel wire, shells, gold foil 15''x15''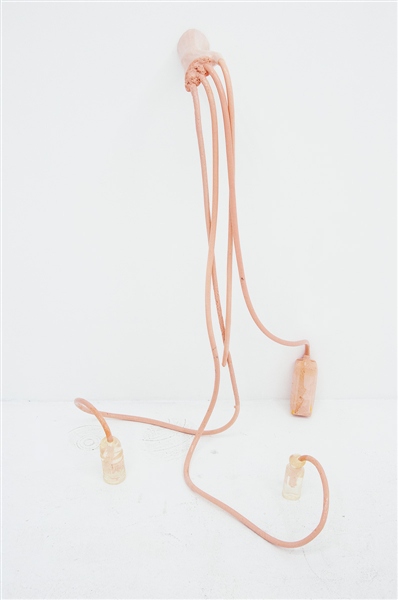 Phil Birch
Bio Digital Jazz, Man, 2013
3D printed plastic, urethane foam, silicone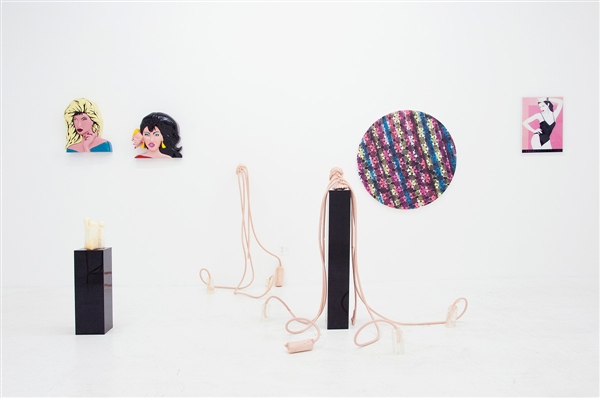 Phil Birch
(foot sculpture)
Bi­-o-­Ped-­a-­Gogical Solution
3D printed plastic, urethane foam, silicone and acrylic box

(hand sculpture)
Bio Digital Jazz, Man
3D printed plastic, urethane foam, silicone

(Bottle sculpture)
Trans­-milk
Urethane foam and acrylic box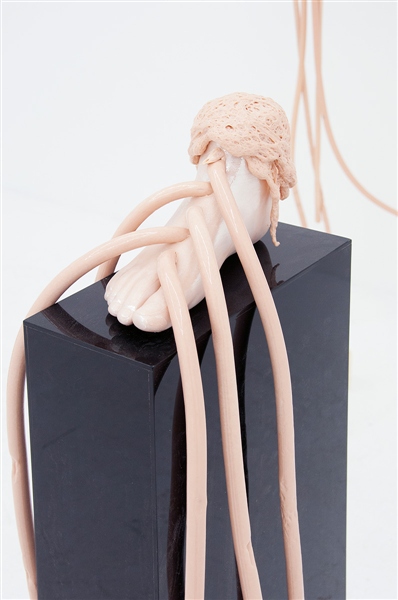 Phil Birch
Detail of Bi­-o-­Ped-­a-­Gogical Solution
3D printed plastic, urethane foam, silicone and acrylic box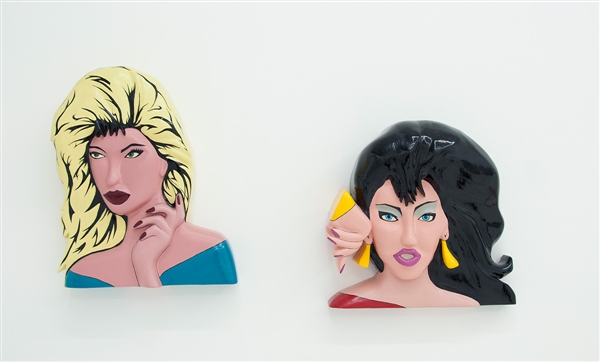 Ben Stone
No She Didn't, 2005 Resin coated, enamel painted polystyrene

Ben Stone
Hommage to Betty Loren-Maltese, 2004 Resin coated, enamel painted polystyrene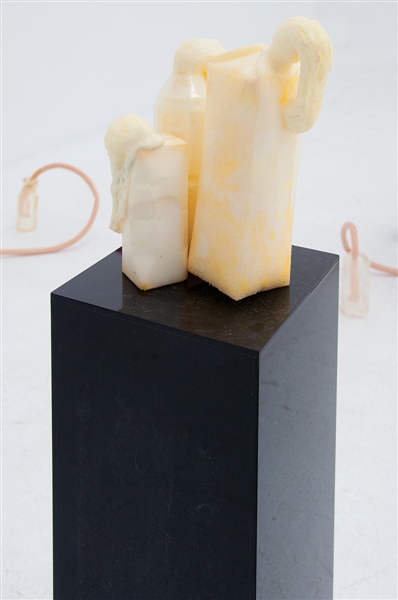 Phil Birch
Detail of Trans­milk
Urethane foam and acrylic box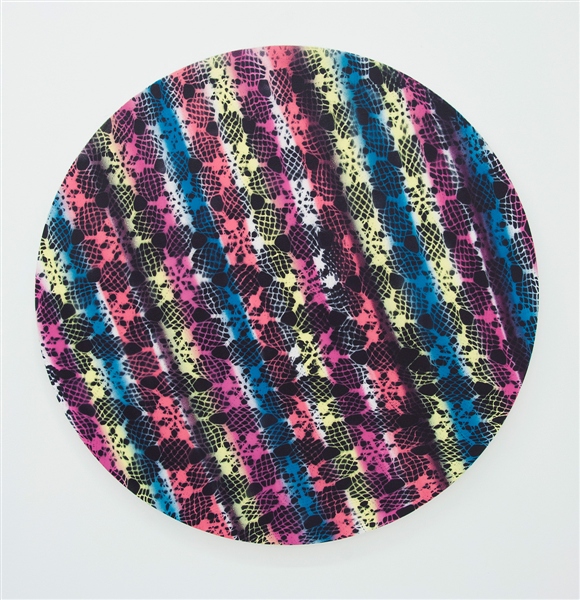 Tamara Gonzales
Glossymatte, 2013 Spray paint on canvas
42" tondo



Barb Choit
Patrick Nagel, "Black Teddy," Fine Art Poster, UV Exposure Time One Week, 2009 digital C-Print
24.5" x 19"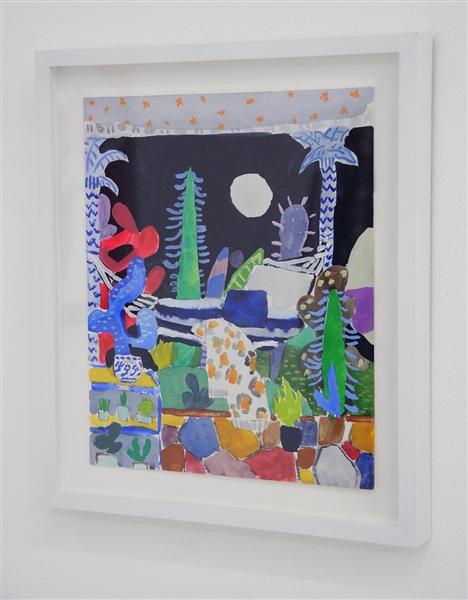 Bella Foster
Paradise Nails, 2013 Watercolor and gouache on paper 11.5" x 9.5"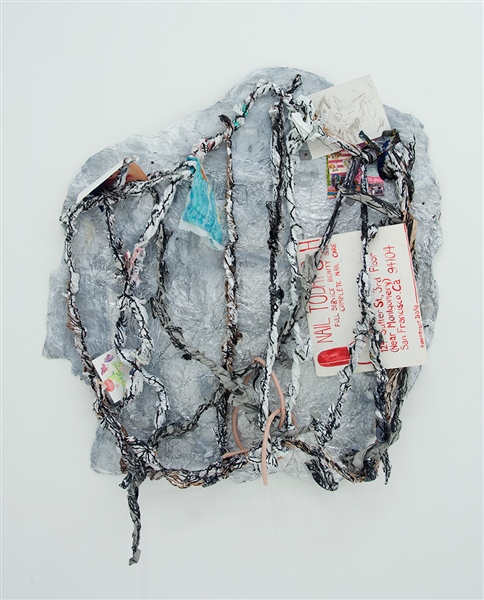 Amanda Friedman
Spotlight Adrianne's Nail Salon Right Now, 2013
Foil, Cardboard, Acrylic, Wire, Paper mache, India Ink, Newsprint, Paper, Gesso, Gouache, Oil pastel, Spray paint, and Assorted artworks, Source materials, Objects, Signs, and Studio remnants made by and from a rotating group of artists' who are in the show, who run the space, and who make art in the building (as of 11/2/13 painting confirmed to include or does currently include elements by and from: Alicia Gibson, Adrianne Rubenstein, Adrianne's Nail Salon in SF, Phillip Birch, Monique Mouton, and Nolan Simon, but artist list will grow and change)
Dimensions variable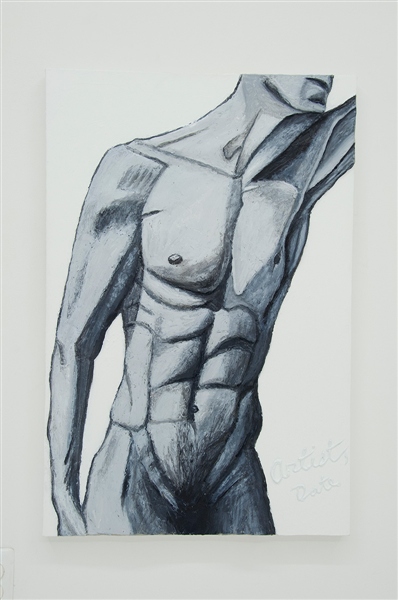 Gina Beavers
Life Model (Charcoal Drawing), 2013 Acrylic on canvas 36" x 24"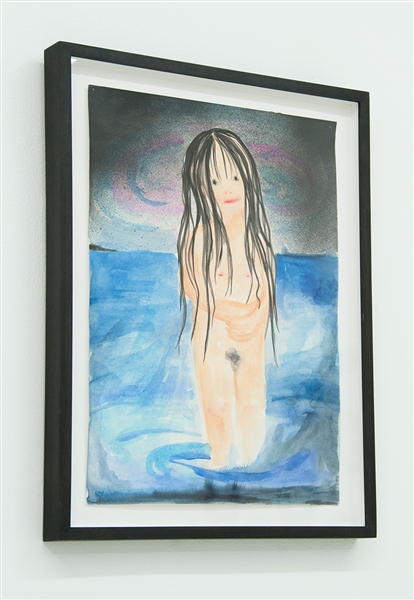 Heike Kati Barath
Untitled (Mermaid)
2010
Watercolor, ink, spraypaint on paper 16.5" x 11.75"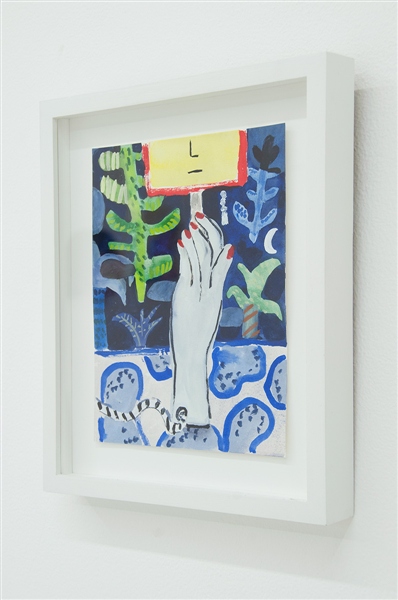 Bella Foster
Red Square, 2013 Watercolor and gouache on paper 9" x 7"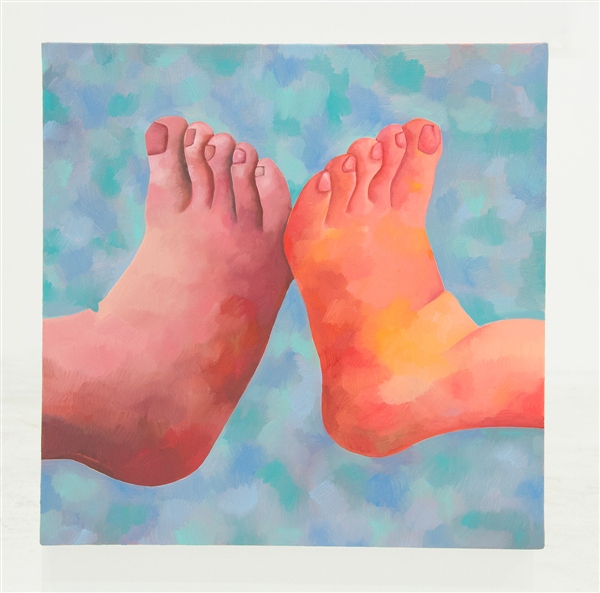 Heidi Jahnke
Feet, 2013 Oil on canvas 20" x 20"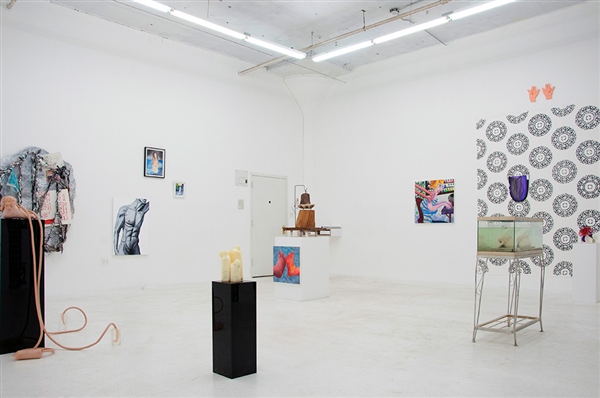 Installation view of Snail Salon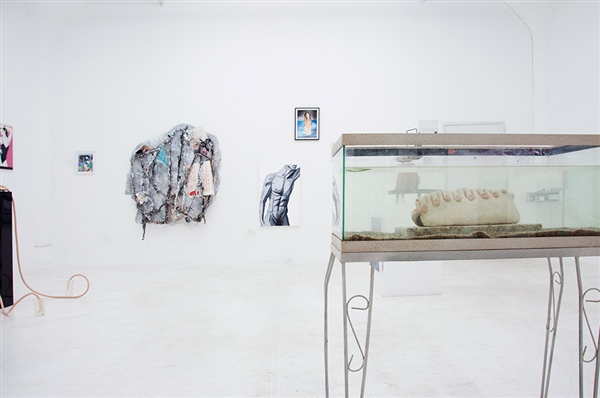 Installation view of Snail Salon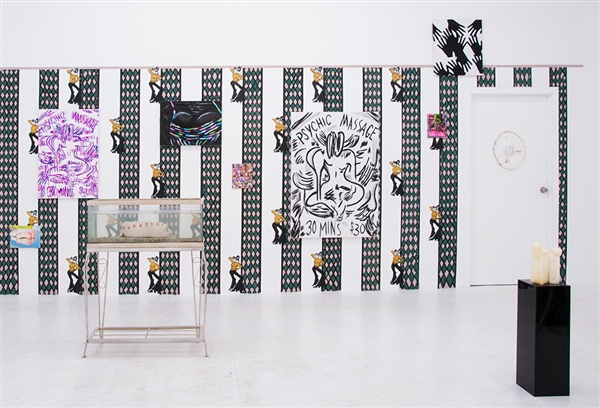 Installation view of Snail Salon with wallpaper installation by Ella Kruglyanskaya

Ella Kruglyanskaya
Wall painting wallpaper, 2013 Acrylic paint on wall